Backstage at the School of Rock
Based on the hit movie and with a rocking new score from Andrew Lloyd Webber, School of Rock The Musical follows slacker Dewey Finn as he turns a class of straight-A students into an ear-popping, riff-scorching, rock band! We talk to Oliver Jackson, who plays Dewey's flatmate, Ned Schneebly, about being part of this West End hit show.

School of Rock looks like fun – what's it like to be part of it?
It has been an absolute thrill to appear in Andrew Lloyd Webber's latest hit musical. Being part of an original cast is always special and to work opposite kids with such extraordinary talent has certainly been inspiring. I love playing the part of Ned Schneebly – he's a perfect mix of comical and sensitive plus I get to perform a really fun number with the lead character Dewey. The end of the show is pretty memorable too – anyone who has seen it will know exactly what I mean!
What's it like working with the children?

The kids in the show are so professional. Watching them live every night never ceases to amaze me and I have no doubt that some of them will become real stars in the not-too-distant future. The fact that they play all the instruments live – as well as act, dance and sing – sets this show apart from others, and I think that's why we're performing to packed audiences every night. The kids do get excitable but they have a team of brilliant chaperones who keep them in check!
When did you decide that you wanted to be an actor and singer?
I was a Cathedral Chorister from the age of 8, singing every day from an early age, and therefore musicals seemed like a natural progression. I was then further inspired by seeing Les Miserables during a family trip to London. To appear in both the West End show and film of Les Miserables years later was a dream come true. Being an actor was the only job I wanted once I realised I wasn't good enough to be a professional cricketer!
Have you had the chance to meet Andrew Lloyd Webber?
I met Andrew for the first time when I auditioned for the show – he was on the audition panel – no pressure at all! He's a very nice man and the fact that he remains so passionate about music after many years in the business is fantastic. He occasionally pops into the theatre unannounced... so we all have to be on our best behaviour!
What do you love about working in theatre?
The beauty of theatre is that every night holds something different. Despite the script and songs staying the same, the audience reaction at each show can vary hugely. This never fails to be exciting and it's what makes live theatre so special for everyone involved. I'm still performing professionally after 20 years... so I guess it's pretty addictive!
Any School of Rock secrets you can whisper to us?
Victoria Beckham is the only Spice Girl NOT to have seen the show in London. The best celebrity audience member for me so far is Antonio Banderas.
Do your children show any interest in following in your footsteps?
My daughter, Rosie, has been attending Perform classes since she was 3. She is now 9, so it's safe to say she is a massive fan! (Oli has also appeared in several Perform videos – see him in perform.org.uk/septimus.) Acting is a wonderful thing, but as a career, it requires lots and lots of hard work. The main thing while you're young is to have fun and make friends while creating fun characters. Perform is the perfect place to do this.
School of Rock The Musical is now playing at The New London Theatre. Visit uk.schoolofrockthemusical.com to find out more. Currently booking until 14th January 2018.
This term at Perform we have our very own rock theme for 7–12s –Cinderella Rocks. This hilarious version of Cinderella features struggling band, The Ugglies, in their quest to top the charts with the help of handsome music mogul, Simon Prince. Get a sneak preview of the songs and dances here or download the free app for iOS devices.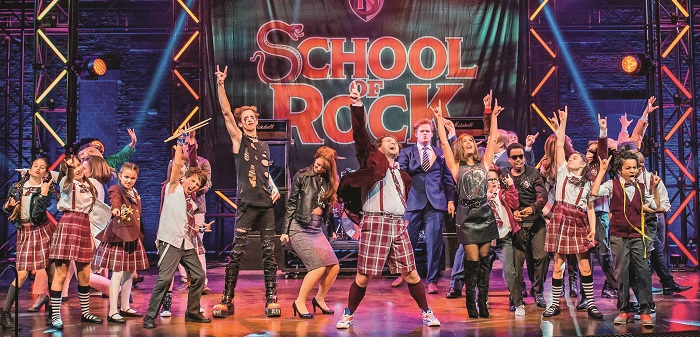 COMPETITION: Win tickets to School of Rock The Musical

We're thrilled to offer you a chance to win tickets for a family of four to see this fabulous show! Just drop an email to [email protected] with your answers by Friday 22nd September – don't forget to send us your name and address.

Complete the following well known phrase: If you wanna be the teacher's...

1) Pet 2) Friend 3) Cousin

Dewey Finn is an aspiring...

1) Rockstar 2) Doctor 3) Postman

What competition do the kids of School of Rock The Musical enter?

1) Battle of the bands 2) Battle of minds 3) Battle of words.

Competition Terms and Conditions: Winners will be selected at random and notified by Friday 22nd September. The four tickets are for use on Monday – Friday performances of School of Rock The Musical until 14th November 2017. The winners are solely responsible for all expenses associated with the prize and their attendance at the event including but not limited to travel, accommodation and the cost of food or drink purchased.