Cinderella Rocks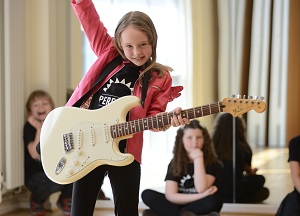 From September, we're going to the ball with our exciting new show for 7-12s, Cinderella Rocks.
This hilarious version of Cinderella features struggling band, The Ugglies, in their quest to top the charts with charming music mogul, Simon Prince.
It's hard to make it big in the music business. With a glittering record deal on offer, now is the chance for youngest sister Ella to shine. But can the Fairy Stylist work his magic and transform her from wretched to Rock Chick before midnight strikes? With squealing guitars and soaring vocals, this rocktastic adaptation of the original fairy tale has been transformed into an amazing new show perfect for 7–12s.
Our energetic and inspirational team of theatre professionals will bring the story to life as the children learn songs, dances and scenes from a special script pack before putting everything together into a dazzling production. All the while, they'll be growing in confidence and learning important life skills with our weekly focuses.
If your 7-12 year old has never experienced Perform and would like to be part of the show, why not book a FREE introductory session today so that they can try a class?
Click below to see sneak previews of some of the songs and dances below performed by our teachers.
Cinderella Rocks FREE MP3 download for all new sign-ups
The Cinderella Rocks album features all the songs from the show performed by professional singers and actors and can be downloaded from The Perform Shop. And new sign-ups and those taking out a new Direct Debit agreement can download absolutely FREE!*

You can download the songs plus special karaoke versions in mp3 format here.

* Free DVD offer applies to new sign-ups or when taking out a new Direct Debit. Terms and conditions apply.
---
The Cinderella Rocks script pack
Every child will receive a special Cinderella Rocks script pack which contains all the lines and lyrics so your child can practise their part at home. It also includes the full musical score for every song.

Check out Lucy's tips on how to help your child learn their lines and make the most of the script with these games to play at home.
---
FREE app available to download now
The Cinderella Rocks app is the ideal companion to the show. It contains a complete copy of the script (best viewed on iPad), full production videos of all the songs from the show performed by professional actors, singers and dancers, as well as special walk-through videos of the songs and dances, a mp3 player and a Recording Studio to help children practise their performances at home.

Available NOW for FREE download from the App Store, Amazon Apps and Google Play.
---
FREE Cinderella Rocks cast t-shirt at the end of term
One of the wonderful things about putting on a show is teamwork; working together as an ensemble. This term, Perform 7-12s will be able to show off their achievements and that they were part of the show with their very own Cinderella Rocks cast t-shirt.

Every child will receive a Cinderella Rocks cast t-shirt at the end of term. It'll be a great reminder of a fantastic show put together by a brilliant team!
---