Weekly classes 7-12s
Weekly acting classes for children aged 7-12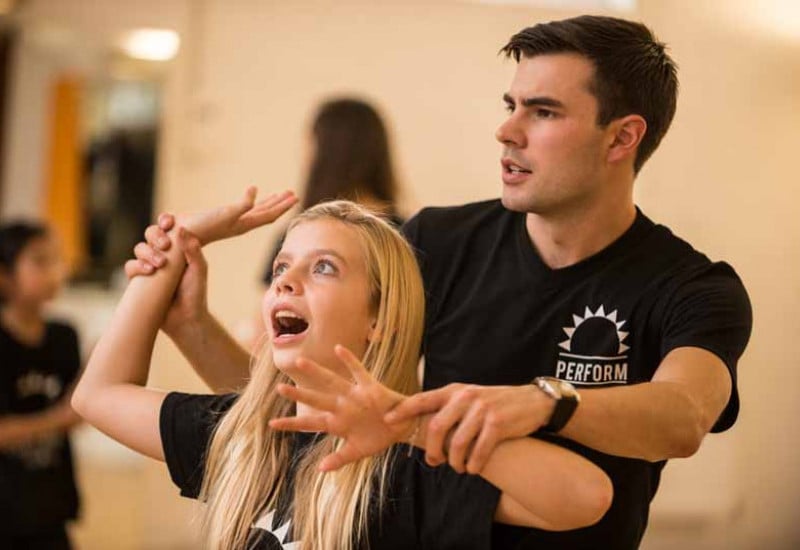 If you are considering classes in a performing arts discipline for your child aged 7, 8, 9, 10, 11 or 12, then we can help. Perform is a different type of drama school. We use a unique mix of drama, dance and singing - specially developed by us - to bring out every child's true potential using the performing arts.
New to Perform? Book a free introductory session
What can acting, singing or dance classes do for my 7-12 year old?
Child development is at the heart of everything we do, so our weekly classes for 7-12 year olds are designed to build confidence and teach life skills that will be invaluable in future life.
Each week, professionally trained actors, directors and choreographers work with the children rehearsing songs, dances and scenes from a specially written show. They help them learn new skills and challenge them to do their very best in a supportive and fun environment. On the last day of term, they combine what they've done into an inspiring performance for family and friends.
Each term there's a different production to keep the children focused and excited. See below for the class structure.
How Perform is different
Unique specially written songs, scenes and dances especially formulated for 7-12s
Focus on a different social skill each week
Low child-staff ratios, a high level of individual attention and regular written feedback on your child's progress
Specially created script packs, music, videos and apps to support your child's learning
End of term production for family and friends
Classes every day of the week so there's bound to be a convenient time and day for you
Each local group is kept small to ensure lots of individual attention by our experienced teachers - hand-picked for their warmth, energy and professionalism. They'll focus on your child's enthusiasm and engagement in the activities rather than their precision and ability to learn moves. And they'll be with your child every step of the way to guide, inspire and encourage.
As well as having fun at Perform, your 7-12 year old will enjoy real benefits: greater confidence, improved concentration and an increased awareness of what they can achieve.
You don't have to take our word for it - read what parents say here. Then, book your child a FREE drama, dance and singing class at your nearest venue. We're confident that your budding Performer will love it.
Class structure
Our classes for 7-12s are divided into three parts, each focusing on a different performing arts discipline..
ACTING & IMPROVISATION
---
This includes a series of drama-based games and exercises to boost confidence such as focus work, character communication and vocal projection. The Producer will also progress to more detailed performance notes on areas such as character, physicality and accents. This session will really help to improve children's attention at school as it develops concentration, imagination and speaking skills in a fun and imaginative way.
MOVEMENT & DANCE
---
This starts with an energetic and fun group of exercises designed to inspire the imagination, develop coordination and reduce the chance of injury. The choreographer will then progress to technical work on physical skills and detailed stylistic notes. All the activities in this section focus on the children developing good coordination, balance and core stability as they grow. They'll also enjoy greater self-assurance, improved posture and confidence to participate in physical activities.
SPEECH & SINGING
---
This aims to increase the flexibility of the vocal cords, develop basic musical reading and improve articulation and projection while maintaining good technique. The small groups allow most children to have solo or featured roles if they wish. Fun engaging topics and a humorous approach means this section is ideal for boosting children's confidence, concentration and communication skills, all while establishing focus within the group and giving shy children a chance to shine.
Productions
Each term, the children work together as a team rehearsing a special written musical production for family and friends on the last day. Past productions have included The Dream (based on Shakespeare's A Midsummer Night's Dream), Ebenezer (based on Dickens' A Christmas Carol), Bluebeard's Bride and Robinson Crusoe In Space.
Free apps for Apple and Android devices
To help the children to learn the songs and dances at home, there is always an app for Apple and Android devices containing walkthrough videos, a Recording Studio, a full script and videos of professional actors and singers performing the songs and dances.
---
How acting, singing and dance classes help children age 7 - 12
7 YEAR OLDS
---
At seven, your child is probably responding really well to a daily schedule so that they can plan their day. As they start to understand about the progression of time, be aware that this can lead to worries about successfully managing tasks and not getting in trouble. In fact, finishing things properly is one of the primary sources of emotional outbursts in seven year olds .
Luckily, the performing arts are an ideal release for the pressures of a more structured school day and the greater responsibility that comes with that. Being able to express themselves creatively and to experiment outside the classroom are two key benefits of drama, dance and singing classes that mainstream school doesn't offer.
Click for Lucy's Tips on 7 year olds.
8 YEAR OLDS
---
Eight is a great age for children to enjoy going to places and doing activities that involve being with others, especially family. Hopefully, yours generally loves being at school, playing with friends and belonging to clubs - so it's a perfect time to try something new.
Children have a lot to learn about character between eight and nine and this is a sign that they are beginning to develop a subjective psychological conception of the self - i.e. becoming aware of a separate inner experience and outward appearance. Eight is usually the age when social comparison becomes a basis of self-evaluation. This is a big step in a child's psychological development and so it makes sense that childen don't always handle this awareness of self and others well.
The performing arts, especially role-play and drama games can help children step into another's shoes and help them understand a situation from another's perspective. And of course, exercising lungs and developing bodies is a great activity at any time but especially at this time of rapid growth.
Click for Lucy's Tips on 8 year olds.
9 YEAR OLDS
---
Many parents of 9 year olds comment on their child's improving self-motivation - though of course this varies enormously with different children. However, almost all report noticing a new level of self-sufficiency and independent thought. You might notice better self-control, a new ability to think about a problem and plan how to solve it, greater persistence and concentration resulting in hours of focus on a task.
The performing arts is the perfect outlet to put this new-found maturity to use and focus it on learning new skills - such as the ability to speak clearly and confidently, to move with grace and agility and to concentrate on solving a problem. All attributes that we focus on every day in Perform classes!
Click for Lucy's Tip on 9 year olds.
10-12 YEAR OLDS
---
Years 10-12 are when relationships, especially with their peer group, become really important. They'll start to value their friends' opinions more highly and they will also be sure of who their best friends are. With peers, your child will express a side of themselves that you probably won't see - which is important to the development of their identity. At Perform, it's wonderful to see lots of little friendships forming; friendships which often outlast the children's time with us.
You might also find that your 10-12 year old is beginning to take an interest in lots of different activities. They often become quite skilled at certain sports and pastimes and the performing arts is no exception. We regularly see them reduce an audience to tears with a moving rendition then have them howling with laughter with a funny speech or routine. All in all, an enthusiasm in acting, singing or dance at this age could be the start of a lifelong passion and one that enriches your own child's life just as much as it enriches those who watch them.
Click for Lucy's tips on 10-12 year olds.
Try a FREE Perform drama, dance and singing class for 7-12s
Perform drama classes for 7-12 year olds run in over 300 venues across the UK all offering the same unique mix of fun and lively activities that have been the hallmark of our success. Classes are held after school (60 minutes) and at weekends (90 minutes). Click to find your nearest venue.
If you're unsure, read what parents say then click to book your FREE class online at your nearest school. We're confident that your child will love it.