Information
Frequently asked questions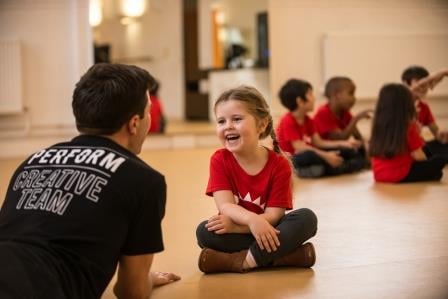 How do you recruit, check and train Perform teachers?
Perform teachers are usually working actors who have extensive experience working with children and a special affinity for inspiring them to grow and develop.
They are hand-picked after a lengthy audition during which they demonstrate their ability to sing, dance, act and enthuse children.
Once selected, they go through a rigorous checking procedure including verbal and written communication with personal and professional references and a full DBS check.
Our training is comprehensive and includes a basic teacher module, advanced Producer training including sessions on Risk Assessments and Health & Safety and other modules for specific Perform products such as Perform Parties and workshops in schools. Producers also undergo regular First Aid courses focused on children and babies.
Once trained, teachers attend several classes to shadow and observe and are accompanied on their first few weeks by an Area Partner.
Once they are working for Perform, all staff attend termly refresher training and termly evaluations to ensure that they are full conversant with the latest curriculum, resources and best practice.
---
How will you keep me informed about my child's development?
You'll receive a personalised Feedback Form written by your Perform Producer every ten weeks. This will detail your child's progress in each of the three main parts of the classes together with more general comments. Every Feedback Form is read and signed by the Principal, Lucy Quick, before being sent to you. These Feedback Forms are an ideal starting point for further conversations but, if you don't have time to talk at the classes, you'll have your Producer's personal mobile number and email address to get in touch at any time.
The Producer will also send you a weekly email detailing what that week's focus has been so you know what areas of Perform's curriculum is being covered week by week.
In addition, three times a year, family and friends can enjoy half-termly Open Workshops and end-of-term Presentations where your child will show you what they've learnt as part of the current theme. You'll be notified about forthcoming Open Workshops and Presentations by your Producer.
---
What if we miss a class?
When your child enrols or renews at Perform, we book them a place in the class for a block of ten consecutive classes. This means that, even if they don't attend, that space has been reserved for them and no other child can take their place for that class. Unfortunately therefore, missed classes cannot be added on to the end of a block under any circumstances.
We do however have a system of "make-up" classes where your child can attend another venue to make up the missed session providing they are still attending Perform. This is dependent on availability and needs to be confirmed by contacting us on the day for weekday schools and on the Friday before for weekend classes.
Please see our Terms and Conditions for more details.
---
Why don't you separate the children into smaller age groups?
In classes for 4-7s, the nature of the unique games and exercises means that a 7 year old child can enjoy and benefit from them just as much as a 4 year old and vice versa. In fact, we've found that a mixed age range increases the opportunities for growth and development. Younger children are stretched and stimulated by the rest of the group and older children blossom from the ability to influence activities and gain valuable leadership skills.
In our classes for 7-12s, we focus on developing social skills via performing arts skills and techniques so previous experience and character is more relevant here than age.
We limit our class size to 22 children and every class has two Perform staff members to ensure that every child - no matter their age - is gaining the most from the class.
---
What difference will I see in my child?
Every activity at Perform is designed to boost what we call The 4 Cs: Confidence, Concentration, Coordination and Communication.
Whether it's a game about eye contact, an exercise to focus attention or improvisations about making friends and understanding others, we'll put your child at the centre of everything we do.
In fact, after only a few months at Perform, you'll almost certainly notice your child is...
- more personable and self-assured
- more confident in their abilities
- more enthusiastic about trying new things
- more relaxed in social situations
- more articulate in conversation
- more successful in the classroom.
In fact, there are so many benefits that we couldn't possibly list them all here. Instead, we offer every child a FREE Session which means you can see them for yourself. Contact us now or book online.
---
What happens if my child says they don't want to come anymore?
In our experience, children who show a reluctance to attend a Perform class when they have been attending happily are sometimes responding to other pressures relating to school, friends or family issues.
In these situations, it's often best to call your Perform Producer to discuss the problem. They will be able to tell you how your child has been performing in the classes and may have an insight into any problem areas.
If you're sure you don't want your child to continue attending classes already paid for, please be aware that we don't offer refunds. However, it is possible to cancel your child's sessions and transfer the resulting credit onto your account to be used in the future for parties, holiday courses or CDs. If you wish to restart classes in the future, you'll have to buy a minimum of 10 consecutive classes. For more information, see our Terms and Conditions.
---
Why do I have to purchase 10 classes at a time?
Perform runs a rolling curriculum which focuses on the continual development of your child over time. This also allows your child to start when they're ready rather than having to wait for the start of a term.
Although we have breaks for school holidays, we believe your child's progress is best assessed at regular intervals unique to them even though these may span the school holidays. This system also allows Perform teachers to spend more time considering each child's individual development on a regular basis.
We do, however, recognise that it's not always convenient to renew in this way, so we offer an option to renew to the end of term at a slightly higher rate per class.
You can also sign up to our monthly Direct Debit scheme and pay monthly.
---
Do you accept childcare vouchers?
Yes we do. Click here for more details.