Interview: Julia Donaldson
Wildly popular children's author, playwright and performer, Julia Donaldson, talks to Shine about her childhood, busking in Paris and her theatrical dreams.
What was your upbringing like and how did this influence you?
My granny used to read to me and my sister, Mary, and give us books of fairy stories for our birthdays. That's what probably started me off writing.

When I was five, my father gave me a fat navy blue book called The Book of A Thousand Poems, which I still have. I used to go round reciting them and, a bit later, started making up some of my own.
My parents were both musical. Mary and I joined the Children's Opera Group and we were in quite a few shows. That led to me understudying the Fairies in an Old Vic production of A Midsummer Night's Dream when I was 12. I was totally stage-struck and sat in the wings listening to the play every night. I soon knew it off by heart and I got to go on stage five times! So Shakespeare was a big influence.
You started out busking across Europe with your husband, Malcolm. What did you sing?
At first, we just sang other people's songs – numbers from shows like Oliverand Hairplus Beatles and other pop songs. But then I started writing songs in the languages of the countries we were busking in – one in French which basically said, 'We're English, you're French, we'll sing for you if you give us your money', and one in Italian all about pasta. Early on in our busking career, the money-collecting hat blew into the Seine and Malcolm dived in to rescue it, which made him my hero.
If you were a character in one of your stories, which one would you be?

I'd be Princess Mirror-Belle, who comes out of a mirror. Then I could discover what actually happens in the other side of the mirror. She tells lots of stories about her charmed life but, like the readers, I'm not sure how many of them are actually true.

Where did the idea come from for What The Ladybird Heard?
When my youngest son had just started school, before he could read properly, the teacher gave him an exercise where you had to match animals up with their noises. The result was, 'A hen hisses, a cat barks, a sheep moos', etc. Nearly twenty years later that gave me the idea for a story where the animals make the wrong noises in order to play a trick on some thieves.

I read that you taught your sister how to read. What would you say to parents who want to encourage children to read more?
I'd suggest reading to them a lot – even once they can read themselves – and taking them to the library where they can choose their own books.
What tips would you give to any budding young writers?
I think it's great fun to write plays. That way, you can concentrate on the dialogue without having to include a lot of description. It can be hard dreaming up a plot but, if you're writing a play, you can use a traditional tale or fairy story and develop the characters.
What is the favourite book you've written and why?
My books are like my children, so it would be a bit mean to have favourites. But I do have a soft spot for the three books about the ladybird and also for the villainous Highway Rat. The book I'm perhaps most proud of writing is my novel for teenagers, Running on the Cracks.
If you weren't an author or singer, what job do you think you'd do?
I always used to want to be an actress, which is why I did drama at university. Although I do now get to act parts in my own stories, I still wouldn't turn down the chance to play a Shakespearian or an Ayckbourn character.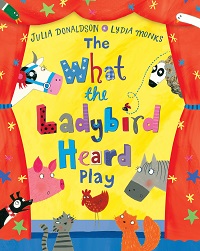 COMPETITION - Win a set of Julia Donaldson playbooks

We have three sets of books to give away, and include:
What The Ladybird Heard, What The Ladybird Heard Next and The Gruffalo.

To win, just answer the following question:
In the What The Ladybird Heard Play, what do Hefty Hugh and Lanky Len want to steal?

Email your answer to [email protected] and don't forget to include your name and address.

Closing date: 31 May 2017