Superheroes- our Spring theme for 4-7s
Calling all Superheroes, we need your help.
Come and join our Perform Superhero School to receive special training for our Top Secret Mission!
From January, Perform children will unearth their hidden superhero powers as they go on a top secret mission to save the world. Global warming threatens the planet, so our brave Superheroes have gathered together to cool things down. Their supercharged adventure will see them rock with Rocket Girl and sing along with brainy Brainio but will they make it to Partyland in time to restore order?
Our warm and friendly team of teachers will bring this exciting story to life with a high-energy mix of games, raps, dances and exercises. Your child will enjoy themselves so much that they won't notice how many new skills they are learning, but we are certain that you will!
Our unique weekly drama classes will boost your child's confidence and build their concentration as they sing songs, play games and have the best fun of the week.
As well as weekly fun and meeting new friends, your child will receive a sticker poster with stickers to collect, videos to watch, an app to download plus a special script containing their lines for our exciting end of term performance.
The Superheroes Album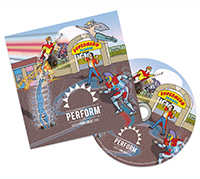 Each term, we have an mp3 music download for our show, packed full of songs, dances and stories to enjoy at home. With the Superheroes download, children can prepare for the forthcoming secret mission with Rocket Girl, Brainio and many more. The tracks can be purchased online at performshop.co.uk.
Visit perform.org.uk/superhero where you can listen to to some of the Superheroes songs and enjoy the videos we've made, performed by professional actors, dancers and singers.
FREE app for iPhone and iPad available now

Bursting with colourful videos, songs, dances and tongue-twisters, children will love learning about the challenges of global warming in Light Fight and flexing their creativity om Super Me and Hero FX. You can download for FREE from the App Store.
Try a Superheroes class FREE
If you're 4-7 year old has never tried a Perform class before, you can book a FREE no-obligation trial session so they can discover the fun for themselves. To book a place simply contact us today on 0207 255 9120 or book online.