Superheroes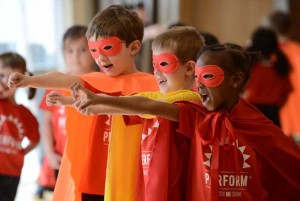 This term, Perform children are unearthing their hidden superhero powers as they go on a top secret mission to save the world, on our Superheroes adventure. Global warming threatens the planet, so our brave superheroes have gathered together to cool things down.
Their supercharged adventure will see them rock with Rocket Girl and sing along with brainy Brainio but will they make it to Partyland in time to restore order?
As well as weekly fun, there's a sticker poster, an MP3 download of songs and stories, an app full of fun videos and games and a special script to help your child rehearse for the thrilling end of term performance. For a sneak preview of the songs and dances, click on one of the videos below.
To book a free introductory class call 020 7255 9120 or click here.
Superheroes The Album FREE MP3 download for all new sign-ups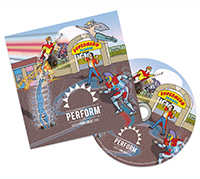 Each term, there is a specially produced themed album packed full of songs, dances and stories to enjoy at home. In Superheroes The Album, children can prepare for their forthcoming secret mission with Rocket Girl, Brainio, Speedalica and many more.
The songs can be purchased online at the Perform Shop where tracks can be downloaded in mp3 format. New sign-ups and those taking out a new Direct Debit agreement can download MP3 tracks absolutely FREE!*
* Free download offer applies to new sign-ups or when taking out a new Direct debit. Terms and conditions apply.
FREE Superheroes app available to download now
Bursting with colourful videos, songs, dances and tongue-twisters, children will love learning about the challenges of global warming in Light Fight and flexing their creativity in Super Me and Hero FX.

The app is available now for FREE for Apple devices and on Google Play and Amazon Appstore.