Rome 'n Jewels
Our spring production for 7-12s
From January, we'll be rehearsing an exhilarating and modern adaptation of the Shakespearean classic Romeo and Juliet.
Set on the mean streets of mordern-day London, Vampire and Wereworld gangs fight an ancient turf war that's spiralling out of control. Can the friendshipbetween Rome and Jewels resolve the feud and bring harmony back to the urban underworld?
With original music, high eneergy dances and funny scenes to enjoy, we'll work towardsasensational end of term performance for family and friends.
Get the album and watch the videos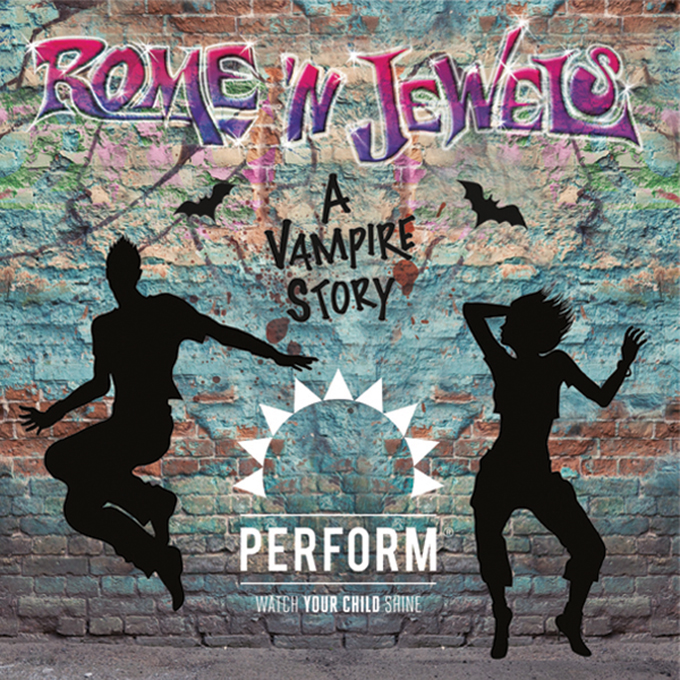 As well as their very own script pack, your child can take home a special Rome 'n Jewels DVD or MP3 download featuring all the songs and dances from the show. Performed by professional actors, singers and dancers, these can be purchased from the Perform Shop.
See how our professional actors, singers and dancers Vamp it up! by watching the Rome 'n Jewels music videos at perform.org.uk/romenjewels.
Download the FREE app
The Rome 'n Jewels app for Apple and Android is the ideal companion to the show. It contains a complete copy of the script, special walk-through videos of the songs and dance moves and full production filmes of professional actors performing the musical numbers. There's even a recording studio feature where children record their own voice!
Try a Rome 'n Jewels class FREE: Your 7-12 year old is welcome to try an introductory class if they've never Perform before. Go to perform.org.uk/try