Perform - behind the scenes
From creating the costumes and props for Perform's music videos, to managing the logistics of our class materials, we hear from the lady behind the magic, Head of Production, Lucy Sayer.
I'm responsible for..
Running 'backstage' at Perform's head office, a busy and varied role where no two days are the same. I coordinate the items our teachers need for their classes and manage the logistics of the materials we send to schools and parents. The most exciting part of my job is sourcing the costumes and props for the Perform shows, music videos and photo shoots.When we're filming a video for a new theme it is essentially like creating a mini movie, filming actors and dancers in costume either out on location or on a set built in the studio. People may not be aware that we have a full Costume and Props Department here at head office. We record audio, shoot on green screen and edit both in-house so it's often very busy!
My background is...
In stage management and technical theatre. I trained at Drama School in stage management and technical theatre, and worked as a stage manager in various rep theatres, national touring shows and in the West End on big shows like Cats, Miss Saigon, Les Miserables and Phantom with the likes of Michael Ball, Ruthie Henshall and Craig Revel Horwood. I was recommended for this job via an actress I worked with on Les Miserables who was working here at Perform.
Initially I was emplyed to work on short-term projects but, as Perform got bigger, my role did too. My theatre background has been very useful in terms of having to think on my feet and being able to tap into my network of contacts if I need advice on a project. They will sometimes contact me if they need to borrow items- some of our props or costumes have been used in big charity events in the West End!
My typical day...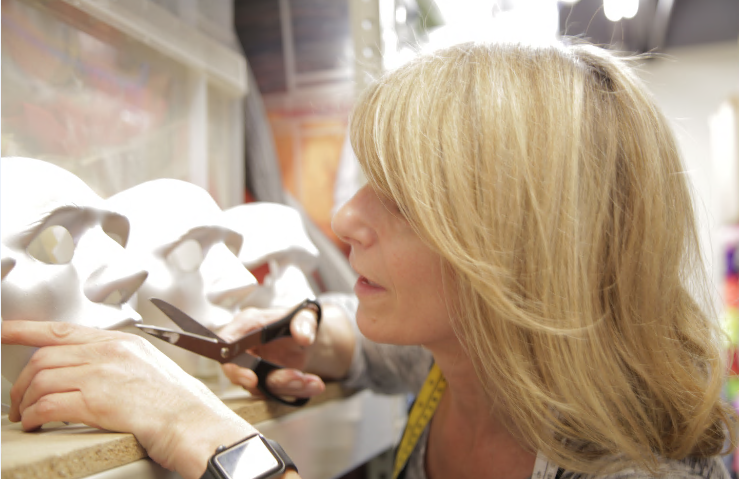 There's no such thing as a typical day and it really depends on where we are in the term and whether we are filming. One day I could be adapting robot masks so that the performers mouths can be seen when they sing, the next day I could be sourcing a troupe of green alien morph suits or a deep sea creature! I'm up and down ladders several times a day in our stock room, everything has to be meticulously labelled and ordered due to the sheer volume of stuff- from potion bottles to Mad Hatter's hats, I know where everything is!
"I'm surrounded by Dorothys, Tinmen and Lion costumes for our suimmer holiday courses right now."
Creating the wardrobe and props for our holiday courses is a fun part of my job. I'm surrounded by Dorothys, Tinmen and Lion costumes for our Wizard of Oz summer shows right now. I've been sourcing beautiful dresses for our Glindas and hunting down ruby red slippers and Toto dogs- the children are going to look fabulous!
My most memorable work moment...
Stopping the traffic in the middle of Camden when we filmed the Cinderella Rocks video. We wanted a London vibe so we had our performers dressed as punks and rockers, all wearing funky wigs, dancing on a busy London street. We had lots of fun with that video.
The best part of my job is...
Receiving positive feedback about the props and costumes we use in our holiday courses. I love challenges which I can really get my teeth into and I work with a great group of people across a broad range of projects meaning that there is never time to get bored. Never a dull moment!