Jack and the Wonder Beans
Our spring theme for 7-12s
Each term, Perform 7–12s put together a specially written show with original music, high-energy dance and lots of funny scenes to enjoy.
From January, we'll be rehearsing a fabulous adaptation of Jack and the Beanstalk set in the glamorous Hollywood Hills – Jack and the Wonder Beans. Join our hero Jack on his journey from Dullsville to the bright lights of Hollywood where he takes on mighty movie producer Hugo Giant. From the thrills of Bond-style spy song Doctor Moneybags to the madcap farmyard fantasy of The Golden Hen, this is a fast-paced and fun-packed show sure to bring out your child's star qualities.
FREE app for iPhone and iPad available now

The Jack and the Wonder Beans app for iPhone and iPad is the ideal companion to the show. It contains a complete copy of the script (best viewed on iPad), special walk- through videos of the songs and dance moves to help you perfect your performances. It also includes full production films of professional actors performing the musical numbers plus an interactive recording studio feature. To get it, just download it FREE from the App Store.
Jack and the Wonder Beans download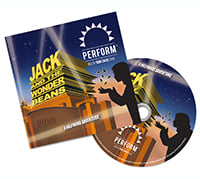 The Jack and the Wonder Beans mp3 download contains all the songs from the show performed by professional actors and singers and can be purchased at performshop.co.uk.
Visit perform.org.uk/wonderbeans for a sneaky peek of the songs and videos. We hope you're inspired by some of the costumes and character portrayals!
Try a Jack and the Wonder Beans class FREE
Take your place on the red carpet and enjoy a sparkling celebration of Hollywood's golden age – book a free class now if you haven't already tried one of our 7–12 classes