Art & Crafts holiday courses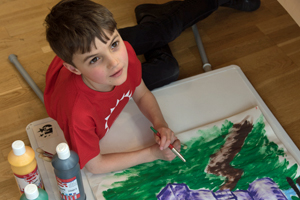 Unleash your child's creative potential
These exciting Art & Crafts courses are the perfect outlet for your child to express their creativity and visual flair.
Using a range of materials, including paint, print and modelling clay, our inspirational artists will give your 4-10 year old the tools to get their imaginations soaring (without worrying about making a mess!).
With a brand new creation to take home each day, this is the ideal course to take your child's artistic talents to the next level.
What your child will enjoy
Fun-packed full days of Art & Crafts activities running from 10am-3pm (5 hours) each day.
Learning to use a wide variety of techniques and media including clay, ink, print and paint
A new creation based around a daily theme to take home each afternoon
Structured sessions alternating between art-time, fun games and physical activities
Inspiring and enthusiastic artists experienced working with this age-range
Tailored approach enabling all children aged 4-10 to participate fully

An "Exhibition" on the last day during which parents can come in to see a presentation of your children's achievements

Personalised certificate of achievement for every child.
Courses run from Monday 29th July - Friday 30th August and cost £275 (4 day) and £330* (5 day). Your child should bring a nut-free packed lunch and a water bottle.
Please click to find details of your nearest venues or to book online.
*Chelsea courses are charged at £380 for 5 days due to smaller class sizes. We offer a 25% discount for siblings and reductions for groups attending the same course at the same venue. All children are required to wear a Perform t-shirt throughout the duration of the holiday course. If your child does not have a t-shirt, this must be purchased at an additional cost of £8.50.