Jungle
This term, Perform 4–7s are setting off into the heart of the Jungle on a fearless expedition.
Creeping through the jungly undergrowth, they'll encounter Eeli the ancient elephant, eat Banana Pie with Boo the monkey and let their hair down while dancing the Jungle Jive! It's going to be the wildest journey imaginable.
Our energetic and inspirational team of teachers will bring this theme to life as the children learn songs, dances and scenes from a special scriptpack before putting everything together into an end-of-term presentation.
As well as weekly activities, children will take home a colourful sticker poster to complete. There's also a CD of songs and stories, videos, an accompanying app and a special script to help your child rehearse for the colourful end of term performance. For a sneak preview of the songs and dances, click on one of the videos below.
If your 4-7 year old has never experienced Perform before, you can book a FREE introductory session so they can discover the fun for themselves. To book a place, simply contact us today or book online at your nearest venue.
FREE Jungle Album CD for all new sign-ups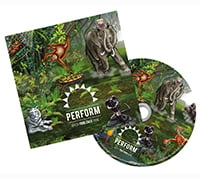 Each term, there is a specially produced themed CD packed full of songs, dances and stories to enjoy at home. Featuring songs such as Don't Trust A Cheetah and Jungle Rumble, this album is grrrreat fun for every little jungle explorer.
The CD can be purchased at the classes and online at the Perform Shop where tracks can also be downloaded in mp3 format. And new sign-ups and those taking out a new Direct Debit agreement can take a CD home absolutely FREE!*
* Free CD 0ffer applies to new sign-ups or when taking out a new Direct debit. Terms and conditions apply.

FREE app for Apple and Android devices available NOW
Take a trip on the wild side with the Perform Jungle app. Children can challenge their memory with Animal Pairs, test their Wild Times table, boost their concentration with Safari Spotting and have fun expressing their creativity in Jungle Boogie. They can also enjoy a selection of colourful videos featuring Jungle songs, dances, raps and poems to watch and join in with at home.

Available for FREE download for iPhone and iPad from the App Store. And, new this term, available for Android devices too!