Meet Lucy
Birthday party ideas for 8-9 year olds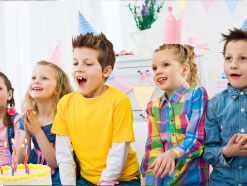 My goodness time flies! So your little one isn't so little any more - and will soon be nine! So you might be wondering what you ought to do to celebrate. Perhaps a party? Perhaps some sort of activity? Ultimately whatever you do needs to suit your child - it is their birthday after all!
A party doesn't have to cost the earth, here are a few ideas:
Sports
You can do this at home if you've a garden or make use of local park (weather permitting!) or hire a school or church hall relatively inexpensively. Set up sporty games like assault courses, various races, football skills etc.
Crafts
Craft based activities can make for really fun parties: think plate, mug or T Shirt decorating or perhaps cake or biscuit decorating. The children can also take their creations home with them!
The Movies
Great in conjunction with a sleepover - or even without! Create tickets at home as party invites, do popcorn and hot dogs etc (just make sure you choose a suitable film!).
Themed parties
You could of course have a more traditional party, but make it more fun by having a theme eg space, pirates, superheroes, wizards etc. Try and theme the venue and the games too.
Plan an outing...
Costs can easily spiral here, so it might be best to keep the numbers down. Think a trip to a theme park, the theatre, the cinema etc.
Perform do Parties too...
If you're really not confident about entertaining a group of nine year olds, then let us help you. Perform Parties offer the chance for the children to put on a show with a trained theatre professional - they combine music, dance and acting which come together to create a short show for the family members to watch.
Find out more about a Perform Party for your child.