The Hercules Beat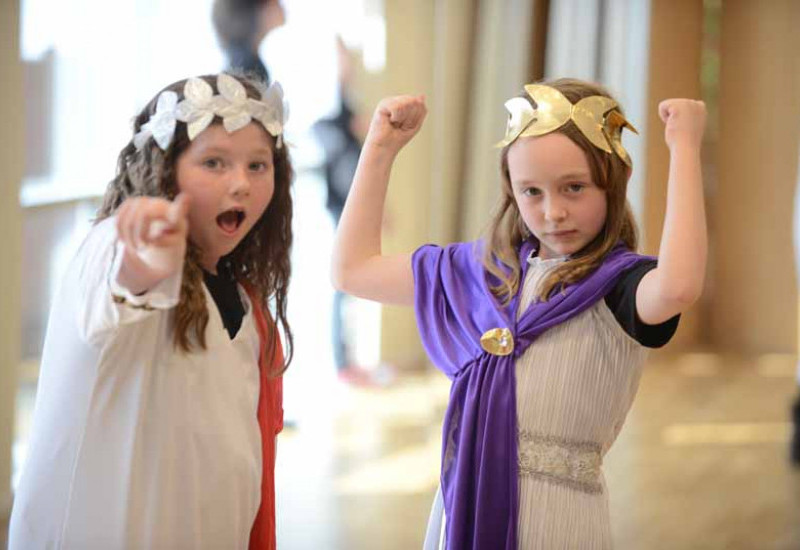 It's time to get off your sofa and get on your feet and join us for The Hercules Beat!
Perform classes are returning in real life this April with the story of Hercules' mission to inspire the ancient Greeks to get up and dance.
Up on Mount Olympus, the Gods are worried. The mortals on Earth have forgotten how to move and groove. Hercules is sent to capture the nation with his fancy footwork and amazing voice. But, on the eve of the referendum, will the masses vote for their feet or a three piece suite?
Filled with confidence-boosting games and energetic dance routines, the children will rediscover fun and laughter as they learn songs, work together as a team and make new friends. What better way to shake off the past few months?
As well as weekly fun and the chance to make new friends, there's a fantastic FREE app to download, a specially produced mp3 album to download and DVD featuring all of the songs from the show. Children will also receive a special script to rehearse with before amazing family and friends with their brilliant performance at the end of term. Click below to see some of the songs and dances performed by professional actors, singers and dancers.
If your 7-12 year old has never experienced Perform and would like to be part of the show, why not book a FREE introductory session today so that they can try a class?
Hercules Beat FREE MP3 download for all new sign-ups
The Hercules Beat album features all the songs from the show performed by professional singers and actors, plus special karaoke versions, for children to sing along with at home.

The mp3 album can be downloaded from The Perform Shop, where you can also purchase the DVD. And new sign-ups and those taking out a new Direct Debit agreement can download absolutely FREE!*

* Free download offer applies to new sign-ups or when taking out a new Direct Debit. Terms and conditions apply.
---
The Hercules Beat script pack
Every child will receive a special Hercules Beat script pack which contains all the lines and lyrics so your child can practise their part at home. It also includes the full musical score for every song, quizzes and games for your child to enjoy, costume inspiration and characters to colour in.

Check out Lucy's tips on how to help your child learn their lines and make the most of the script with these games to play at home.
---
FREE app available to download now
The Hercules Beat app is the ideal companion to the show. It contains a complete copy of the script (best viewed on iPad), full production videos of all the songs from the show performed by professional actors, singers and dancers, as well as special walk-through videos of the songs and dances, a mp3 player and a Recording Studio to help children practise their performances at home.

Available NOW for FREE download from the App Store, Amazon App Store and Google Play.
---
FREE Hercules Beat cast t-shirt at the end of term
One of the wonderful things about putting on a show is teamwork; working together as an ensemble. This term, Perform 7-12s will be able to show off their achievements and that they were part of the show with their very own Hercules Beat cast t-shirt.

Every child will receive a Hercules Beat cast t-shirt at the end of term. It'll be a great reminder of a fantastic show put together by a brilliant team!
---
Keeping your child safe
We've always put children at the heart of everything we do so we're keen to help your child back to the real world of laughter, fun and social interactions. But of course, it goes without saying that their safety and security is paramount at all times.

Click to find out how we are keeping your child and our classes Covid-Safe.