Happy Halloween workshops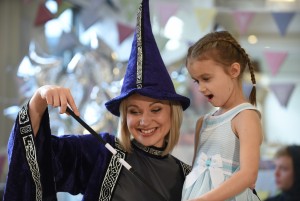 Celebrate Halloween with Perform.
Come dressed as your favourite spooky character and join in the fun with one of our Halloween workshops, this October.
We'll meet ghosts, black cats, witches and wizards as we enter The Magician's Chamber, learn to fly and perform our very own magic spells. The children will put their magic powers to good use on a whirlwind adventure to rescue the black cat from the evil clutches of the witches and wizards. All it takes is a little bit of imagination.
Featuring spooky songs, ghoulish games and magic moves, we can guarantee your child will have a spellbinding time with us.
These workshops are running in Barnes, Chingford, Chiswick Park, Colchester*, Finchley, Leigh-on-Sea, Romsey, Twickenham, and Wollaton.
To book your child's place find your nearest venue and book online or call our friendly customer services team on 0207 255 9120. From just £10, these one-off sessions are a superb way to celebrate Halloween.
Children should wear comfortable clothes or their favourite Halloween costume with trainer-like shoes, and bring a water bottle.
*Please note that the Colchester workshop is Superhero themed.