LEGO® holiday courses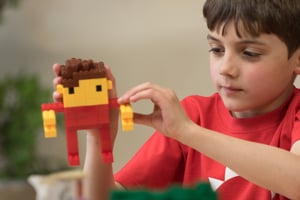 Building imaginations brick by brick
If your child loves LEGO®, they'll love this. Come and join our energetic team as we tackle some challenging construction projects.
Each day there's a new theme- whether it be fast cars, beautiful palaces or crazy robots- but no matter what your 4-10 year old is working on, one of our dedicated engineers will be there to inspire and encourage.
Fun and stimulating, these courses are the perfect treat for the architects of the future.
What your child will enjoy
Fun-packed full days of LEGO® activities running from 10am-3pm (5 hours) each day.
All LEGO® and step-by-step plans provided
Imagine, design and build – based on daily theme - with group and individual tuition
Structured sessions alternating between build-time, team-building games and physical activities
Inspiring and enthusiastic LEGO® engineers experienced working with this age-range
Tailored approach enabling all children aged 4-10 to participate fully
An "Exhibition" on the last day during which parents can come in to see a presentation of what your children have created
Personalised certificate of achievement for every child.
Courses run from Monday 29th July - Friday 30th August and cost £275 (4 day) and £330* (5 day). Your child should bring a nut-free packed lunch and a water bottle.
Please click to find details of your nearest venues or to book online.
*Chelsea courses are charged at £380 for 5 days due to smaller class sizes. We offer a 25% discount for siblings and reductions for groups attending the same course at the same venue. All children are required to wear a Perform t-shirt throughout the duration of the holiday course. If your child does not have a t-shirt, this must be purchased at an additional cost of £8.50.