Off the rails family holiday
Harry Wallop thought it would be a bit different to take the family to Italy by train. Unfortunately, his plans did not stay on track.
Air travel and my wife are not best of friends. They are on speaking terms, but if the combination of Ryanair and our four children are involved, there tends to be an almighty falling out.
Which partly explains how I ended up at 6am on the platform of Milan train station, wearing nothing but my pants, surrounded by suitcases, bed clothes, and my nine-year-old trying manfully to stop our train moving off to Venice with his younger brother still trapped inside.
It sounded a wonderful idea: travel from London to our summer holiday in Tuscany by sleeper train. My wife could avoid flying, while I could dodge low-cost airlines and their ruinous baggage charges. Also, it would also be just far more fun, we thought.
What could be more magical than glimpsing the slopes of Cote d'Or in Burgundy from our sleeper compartment and then waking up in time for espresso and fette biscottate in the city of the Medicis?
We even calculated that – taking into account the night's accommodation on the train – it was not going to be much more expensive than flying during peak summer with lots of luggage.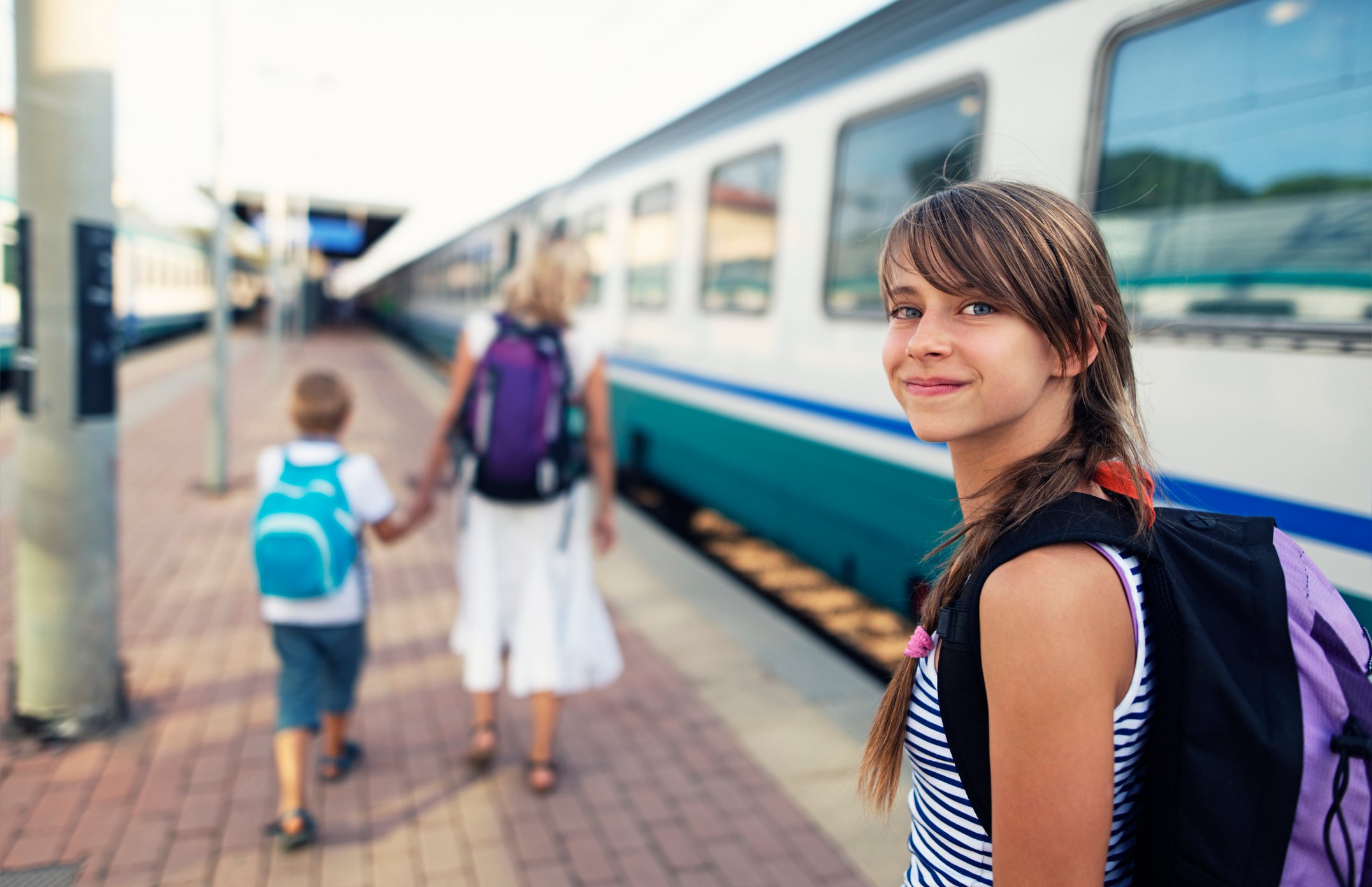 The second was the train itself. Forget gleaming TGVs of European folklore. The overnight train is operated by the Italian company Thello, which uses battered old 1970s rolling stock, and in our case, a train where the air conditioning not only did not work, but pumped out hot air in the middle of the night. The Italian guard shrugged his shoulders when I complained that our cabin was starting to resemble the black hole of Calcutta. 'It's broken,' he said.
And that, apparently, was the end of the matter.
In theory, the cabins are ideal for large families. We were able to book two interconnecting ones, each with three fold-down beds and their own sinks. With all your luggage (including the car seat and a buggy), it was a bit of a squash. But there are few things more exciting for a six-year-old than to go to bed on a train in a triple bunk. Plus, the grumpy guard helped us make up our beds and promised he'd wake us up an hour before arrival in Milan with breakfast and, crucially, return our passports. We were running an hour late, so that would be 7am, he suggested.
At 5.51am a loud knocking on the cabin door woke me from my (overheated) slumber. The guard handed over the passports. I asked the time and asked when we were due in Milan.
'6 o'clock,' he said.
'But that's in less than ten minutes!' I answered in alarm. 'I thought we you were going to wake us an hour before!'
'I know,' he shrugged. 'But my colleague did not tell me we would be on time.' Being punctual obviously came as a great shock to him.
With that, the train pulled into Milan station – at 5.56am. All four children, plus my wife, were fast asleep; sheets, luggage, iPads, headphones, sponge bags and car seats were scattered across the two cabins. Passengers were sprinting down corridors, suffering the same fate.
I ejected the nine-year-old and told him to delay the train pulling out, which he did heroically by standing one bare foot on the platform while the other (shod) was rooted to the train door. I – in just a pair of underpants – started the evacuation. There followed about four minutes of the blindest panic as suitcases, shoes, toys and various children were thrown out of the train.
All the while, the guard on the platform nonchalantly puffed on a cigarette by the door, with no suggestion he might help. We eventually escaped with all our belongings but only half our sanity and in a muck sweat. Only later did we discover that the train did not set off for Venice (its final destination) for a further 30 minutes. The guard did not think it relevant to pass this information on.
The trip ended up being more uncomfortable, expensive and stressful than flying. Though, it's worth pointing out Milan station (an architectural gem) has a fabulous cafe. It's even open at 6am. But this year, we're taking the ferry and driving.
GREAT TRAIN ADVENTURES FOR CHILDREN

Overnight train from Dusseldorf, Germany to Verona, Italy
Perfect for those with small children who can't stand flying or forking out for car hire. Drive your car onto the train in Germany at 6.30pm on Friday, arrive in Italy, 8.40am on Saturday.

Chur, Switzerland to Tirano, Italy
This four-hour trip on the Bernina Express travels through a World Heritage Site with 196 bridges and 55 tunnels, that reaches 2,253m at its highest point. no-one will be bored.

The Caledonian Sleeper
The very best way to travel to Scotland from London. It doesn't set off until very late (11.50pm), but it's a great way to introduce children to the adventure of sleeper trains.