Drama classes 4-7s
The Magician's Chamber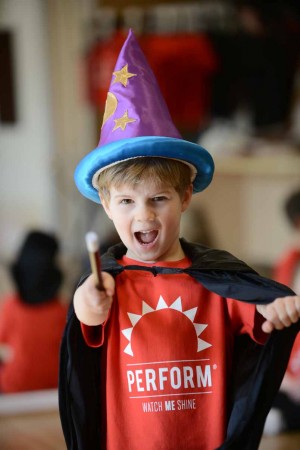 Calling all trainee witches and wizards! This September, prepare to be whisked away into the wonderful world of The Magician's Chamber and an incredible Arthurian adventure. With our spellbinding magical mix of myths and magic, your child will meet the Rabbit in a Hat, dance The Broomstick Flick and stop wicked Morgan Le Fay from turning the baby King Arthur into a hamster!

Our weekly workshops for 4–7 year olds are run by an expert team who create a magical space for imaginations to run free. There's nothing like a mix of rap, rhyme, rhythm and song to help confidence soar and concentration improve. No wonder children love our classes!
Conjure up some of the songs and dances that the children will be learning by clicking the links below:
The Magician's Chamber music & costumes- all available on The Perform Shop
Each term, there is a specially produced themed CD packed full of songs, dances and stories to enjoy at home. In The Magician's Chamber Album, children can join PF, Merlin the Master Magician and a colourful cast of characters including the graceful Queen Guinevere, the mystical Lady in the Lake and King Arthur and his legendary Knights of the Round Table. Whether singing Rabbit In A Hat or being swept away by The Broomstick Flick, this album is a mesmerising mix of enchantment, fantasy and illusion.

The album can be purchased at the classes and from The Perform Shop where tracks can be downloaded in mp3 format. Plus, new sign-ups and those taking out a new Direct Debit agreement can download a copy absolutely FREE!*

* Free download offer applies to new sign-ups or when taking out a new Direct debit. Terms and conditions apply.
Our Perform Shop is also perfect for anyone looking for costumes for the end of term presentation. Whatever role your child has in the show, we've got a fabulous range of outfits and accessories so every child can have fun dressing up on the big day.
*Free first class delivery on orders over £30
FREE Magician's Chamber app available to download now
Now the mysterious world of the Magician's Chamber can be enjoyed at home too with the Perform Magician's Chamber app for iPhone and iPad. Coming soon for Android.

Download for FREE today from the App store and release some spellbinding songs, games and adventures. With wonderful wizard Merlin as their guide, children can perfect their spelling in Magic Speller, boost their concentration in Rabbits On The Rampage and express their creativity in Paint Pots & Potions.

As well as weekly fun and the chance to make new friends, your child can take home a colourful sticker poster and a FREE MP3 download* packed with songs and stories that will keep them entertained between workshops. As the weeks progress, they will also receive a special script to rehearse for a special end-of-term performance that family and friends can all enjoy.

The app is available now for FREE from the Apple App Store and coming soon for Android on Google Play and Amazon