Under the Sea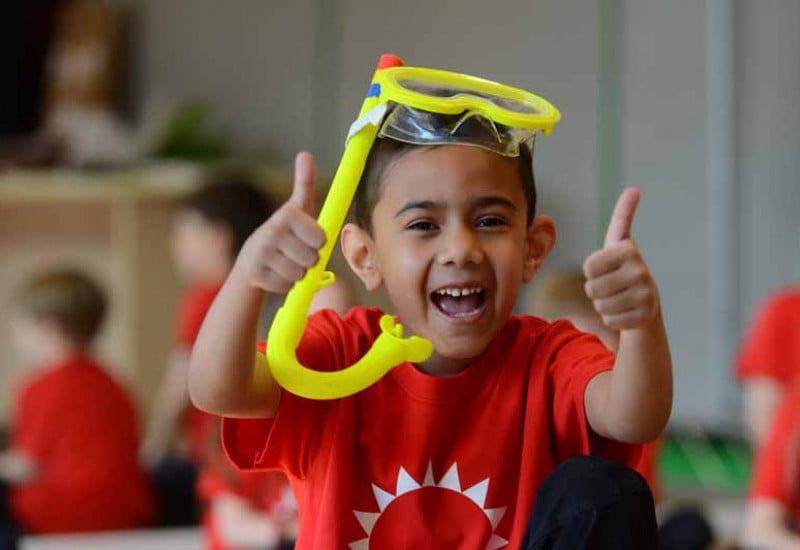 It's time to come out of our shells and shine!
This summer, 4–7s will be casting off their shells and diving into our face-to-face classes as we embark on a thrilling underwater adventure filled with magical sea creatures whowill help boost your child's confidence and build their concentration as they dance like dolphins, sing like starfish and twirl like turtles.
Join Dolly Dolphin and Septimus the Octopus on a mission to rescue the Lost Pearl from the scary Deep Sea Creature. We'll discover a fascinating deep sea world as we stop for Tea Under the Sea and dance the Fishy Funk.
Our expert teachers will inspire your child to get back to doing the things they love most and help them to make a shoal lot of friends, all while having the best fun of the week.
As well as weekly activities, children will take home a colourful sticker poster to complete. There's also an album of songs and stories, videos, an accompanying app and a special script to help your child rehearse for the colourful end of term performance. For a sneak preview of the songs and dances, click on one of the videos below.
If your 4-7 year old has never experienced Perform before, you can book a FREE introductory session so they can discover the fun for themselves. To book a place, simply contact us today or book online at your nearest venue.
The Under the Sea FREE MP3 download for all new sign-ups
Each term, there is a specially produced themed album packed full of songs, dances and stories to enjoy at home. Singalong to Tea Under the Sea, dance the Fishy Funk in your living room and face the nasty Deep Sea Creature as a family.

The album can be downloaded in mp3 format and the CD purchased from the Perform Shop. What's more, new sign-ups and those taking out a new Direct Debit agreement can download it absolutely FREE!*

* Free download offer applies to new sign-ups or when taking out a new Direct debit. Terms and conditions apply.
---
The Under the Sea script pack
Every child will receive a special Under the Sea script pack which contains all the lines and lyrics so your child can practise their part at home. It also includes the full musical score for every song, quizzes and games for your child to enjoy and lots of crazy characters to colour in.

You can read, download and print the script from the app. Find out more information below.

Check out Lucy's tips on how to help your child learn their lines and make the most of the script with these games to play at home.
---
FREE app available to download now
Splish, splash! Dive down to a colouful underwater world with the Perform Under the Sea app. Children will love expressing their creativity with Sounds Fishy, testing their adding and subtracting skills in Counting Cups and boosting their coordination as they help the Deep Sea Creature suck up oil spills while avoiding the Smellyfish.

Available NOW for FREE download from the App Store, Amazon App Store and Google Play.
---
FREE Septimus the Octopus soft toy for every child at the end of term
Thoughout the term, Septimus the Octopus will be swimming along with us on our aquatic adventures Under the Sea.

What's more, every child who performs in our fabulous end of term presentation will go home with their very own Septimus plush toy.
---
Keeping your child safe
We've always put children at the heart of everything we do so we're keen to help your child back to the real world of laughter, fun and social interactions. But of course, it goes without saying that their safety and security is paramount at all times.

Click to find out how we are keeping your child and our classes Covid-Safe.