Event organiser?
If you have an event involving children, bring in the experts!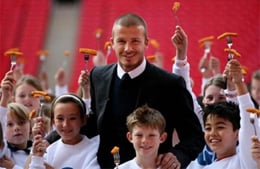 With huge experience in managing and entertaining large groups of children, Perform is a preferred choice for companies facilitating an event where children are in attendance.
We can supply over 100 enthusiastic actors, dancers and musicians: all highly experienced and proficient with children and guaranteed to make your event a success.
Past work has included:
Supplying a team of 30 entertainers to the launch of a David Beckham campaign for GO3 global healthy food range (pictured)
Producing and touring a 30 minute musical show about internet safety at over 100 primary schools for Symantec/ Norton Anti-Virus
Providing outgoing and confident trainers for a course in hospitality at Compass PLC
Briefing and supplying teams of child entertainers for various BFI film premieres including Gnomio & Juliet and A Turtle's Tale.
Delivering child-based entertainment at numerous weddings, Bar Mitzvahs and other functions for wedding planners and major hotels including The Grove, Cliveden, The Ritz and The Savoy (see our Hotels page for for more details).
If you are interested in finding out what Perform can offer your event, please contact Lucy Quick on 0207 255 9195 or at [email protected]