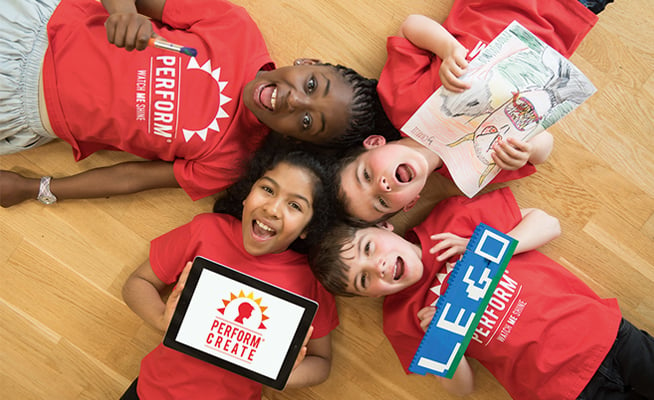 CREATE with confidence

Our practical CREATE courses encourage children to express themselves creatively while, at the same time, developing problem-solving and design skills.
Whether you choose CODING, LEGO® or ART & CRAFTS, our enthusiastic teachers will be with your child every step of the way as they design and create something amazing of their own.
With structured sessions divided into individual instruction, creative expression and group games and exercises, your child will enjoy a brilliant week stretching their creativity, making new friends and having fun.
Coding creativity

Get your child set for the future

From self-driving cars to social media, tech is revolutionizing our lives. Coding is a fundamental skill that boosts concentration and creativity as well as being huge fun.

Our friendly coders will introduce concepts such as logic and loops then help your child combine graphics, audio and rules into an amazing game. Combined with energetic activities, this course is a fantastic way to spark your child's interest in what could be become a lifelong passion.

LEGO® for life

Building imaginations brick by brick

If your child loves LEGO®, they'll love this. Come and join our energetic team as we tackle some challenging construction projects.

Each day there's a new theme – whether it be fast cars, beautiful palaces or crazy robots – but no matter what your child is working on, one of our dedicated engineers will be there to inspire and encourage.

Fun and stimulating, these courses are the perfect treat for the architects of the future.

Art Smart

Unleash your child's creative potential

These exciting Art & Crafts courses are the perfect outlet for your child to express their creativity and visual flair.

Using a range of materials, including paint, print and modelling clay, our inspirational artists will give your child the tools to get their imaginations soaring (without worrying about making a mess!).

With a brand new creation to take home each day, this is the ideal course to take your child's artistic talents to the next level.
What your child will enjoy
Fun-packed full days of Coding, LEGO® or Art & Crafts running from 10am-3pm (5 hours) each day

Structured sessions alternating between creative time, fun games and physical activities

Inspiring and enthusiastic coders, engineers and artists experienced working with this age-range
Tailored approach enabling all children aged 4-10 to participate fully
Personalised certificate of acheivement for every child
Courses run from Monday 29th July - Friday 30th August and cost £275 (4 day) and £330* (5 day). Your child should bring a nut-free packed lunch and a water bottle.
Please click to find details of your nearest venues or to book online.
*Chelsea courses are charged at £380 for 5 days due to smaller class sizes. We offer a 25% discount for siblings and reductions for groups attending the same course at the same venue. All children are required to wear a Perform t-shirt throughout the duration of the holiday course. If your child does not have a t-shirt, this must be purchased at an additional cost of £8.50.