Key Stage One topics
Save the World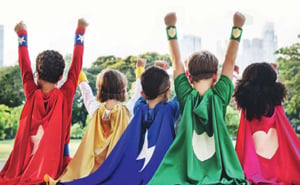 Bring your eco topics to life using drama
Our Eco workshop is designed to support this important topic by bringing it to life through acting, role-play and improvisation. We will take your children on a fun and informative adventure, helping them understand the importance of environmental issues and how they can help.
Key Stage 1

Planet-Saving Superheroes
Grab your cape, mask and boots and help save the world by zooming off on an adventure with us as we teach the children about the importance of our environment and how to recycle. This workshop covers the 9 Eco Schools topics, leaving children with an understanding of what they can do to make the world a more sustainable place. We bring a fun and engaging approach to a serious subject.
Learning objectives:
To develop an understanding of how choices made by humans are having a negative impact on the world.
To describe how changes to the environment could impact human life.
To understand the recycling process.
Key Stage 2

Everyday Eco Warriors
An exciting and unique approach to learning about the environment and sustainability. We will address the environmental problems children may face as they get older and how they can change things – right now! Linked to the National Framework for sustainable schools, the children will be immersed in drama activities that will cover what to do with rubbish, walking or cycling to school, how to save water and energy as well as climate change and community wellbeing.
Learning objectives:
To understand how to become a sustainable school.
To recognise ways to care for the environment.
For more information or to book, click here to contact us or book online.