Key Stage One topics
World Book Day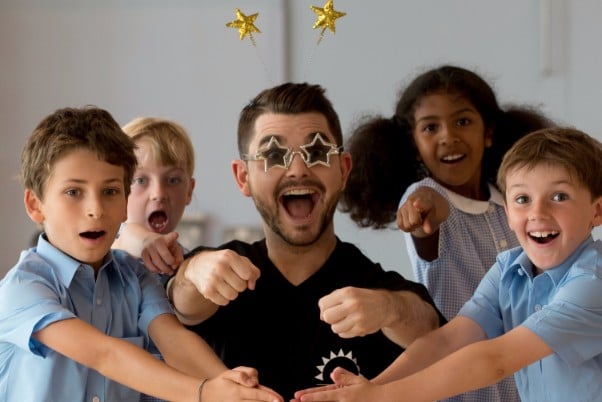 Bring a book to life on World Book Day 2021 with a Perform drama-based workshop.
We'd love to take your children on a fantastic fictional journey to celebrate World Book Day. Our trained actors will bring the magic of a story to life through acting, character role-play and improvisation.
Just choose which books you'd like us to bring to life
(we can even explore a different book for each class).
Key Stage 1
Classics: The Wizard of Oz, The Three Billy Goat's Gruff, The Very Hungry Caterpillar, Alice in Wonderland, The Lighthouse Keeper's Lunch, The Gingerbread Man, Wind in the Willows, Where the Wild Things Are, plus Roald Dahl's Boy, Charlie and the Chocolate Factory, George's Marvellous Medicine, James and the Giant Peach, Matilda, The Giraffe, Pelly and Me, The Twits or The BFG.
Contemporary favourites: Harry Potter, Angry Arthur, Laura's Star, The Enormous Turnip, The Gruffalo, The Selfish Crocodile, The Smartest Giant in Town, The Snail and the Whale, What the Ladybird Heard, We're Going on a Bear Hunt.
Key Stage 2
Popular choices: Shakespeare's A Midsummer Night's Dream, Macbeth or Romeo & Juliet, Roald Dahl's Boy, Matilda or The BFG, The Arrival, Charlotte's Web, King Kong, The Tunnel, Leon & The Place Between, Skellig, Stormbreaker or Wonder.
To book your workshop, simply call our friendly Perform for Schools team on 0207 255 9121 or use online booking form. Quote 'BOOK DAY' before 7th February 2020 for a 10% discount.
Each workshop lasts 50 minutes for a class of up to 30 children. We can cover 3 books in half a day or 5 books in a full day.