Key Stage One topics
World Book Day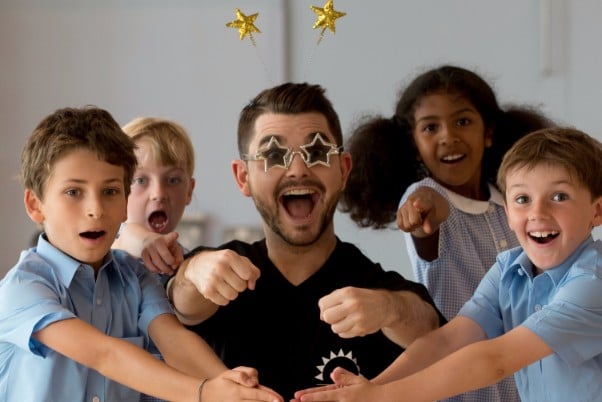 Bring a book to life on World Book Day 2024 with a Perform drama-based workshop.
We'd love to take your children on a fantastic fictional journey to celebrate World Book Day. Our trained actors will bring the magic of a story to life through acting, character role-play and improvisation.
Just choose which books you'd like us to bring to life (we can even explore a different book for each class).
See below for some of the plans we offer.
EYFS
Fairy tale Forest, Handa's Surprise, Jack & the Beanstalk, Julia Donaldson stories, Laura's Star, The Enormous Turnip, The Gingerbread Man, The Gruffalo, The Selfish Crocodile, The Smartest Giant in Town, The Snail & the Whale, The Tempest , The Three Billy Goats Gruff, The Three Little Pigs, The Tiger Who Came to Tea, The Very Hungry Caterpillar, We're Going on a Bear Hunt, What the Ladybird Heard
Key Stage 1
Alice in Wonderland, Angry Arthur, Beware of the Storybook Wolves, Boy, Charlie & the Chocolate Factory, Chocolate Cake, Dirty Bertie, Flotsam, George's Marvellous Medicine, James & the Giant Peach, Matilda,The BFG, The Butterfly Lion, The Highway Rat, The Lighthouse Keeper's Lunch, The Magic Finger, The Pirates Next Door, The Rainbow Fish, The Twits, The Wind in the Willows, The Wizard of Oz, Voices in the Park, Where the Wild Things Are
Key Stage 2
A Midsummer Night's Dream, Arthur & the Golden Rope, Charlotte's Web, Clockwork, Holes, King Kong, Leon & the Place Between, Macbeth, Peter Pan, Romeo & Juliet, Skellig, Stormbreaker, Street Child, Strict, The Arrival, The Big Book of Bad Things, The Borrowers, The Time Travelling Cat, The Tunnel, The Wind in the Willows, Traditional Tales, Who Let the Gods Out?, Wonder
To book your workshop, simply call our friendly Perform for Schools team on 0207 255 9121 or use online booking form.
Each workshop lasts 50 minutes for a class of up to 30 children. We can cover 3 books in half a day or 5 books in a full day.