Greeks, Gods and Gorgons
Move over Spiderman, Batman and Wonder Woman, the Greek myths feature some of the world's most famous heroes and heroines and are also some of the greatest stories ever told. Whether you want to read about Pandora's Box, Theseus and the Minotaur, Jason and the Argonauts or our very own Hercules, there's something for everyone in our pick of the best Greek Mythology books for children.
Greek Myths by Marcia Williams
Vibrant cartoon-strip story telling
A fun but faithful retelling of eight myths using simple language and Marcia's signature comic-strip format. Brimming with colour and decorative detail. The non-stop action makes each tale a pleasure to look at while the speech bubbles add humour. A perfect way to introduce young readers to the power of myths.
Age guide 5–9 years.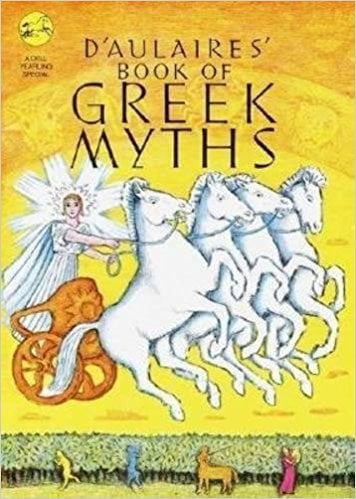 D'Aulaire's Book of Greek Myths by Ingri and Edgar D'Aulaire
Stunning illustrations in a larger style book
In print for over 50 years and still getting amazing reviews, this comprehensive book introduces children to many of the well-known myths. From powerful Zeus and mischievous trickster Hermes, to wise Athena and mighty Hercules, both adults and children will treasure the witty observations and evocative illustrations in this lovely book.
Age guide 8–12 years.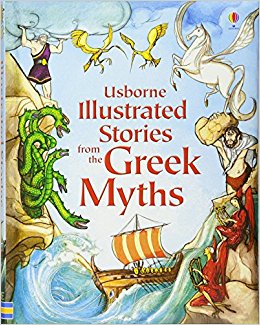 Usborne Illustrated Stories from the Greek Myths
Bedtime reading for the not-so-squeamish
This collection of Greek myths taken from 'Usborne Young Reading' titles features the best-known of all the Greek heroes and monsters, with six stories starring Perseus and Medusa, Pegasus, Heracles, Odysseus, the Wooden Horse and the Minotaur. Each individual story has clear engaging text and is accompanied by original illustrations. Another Usborne hit.
Age guide 5–7 years.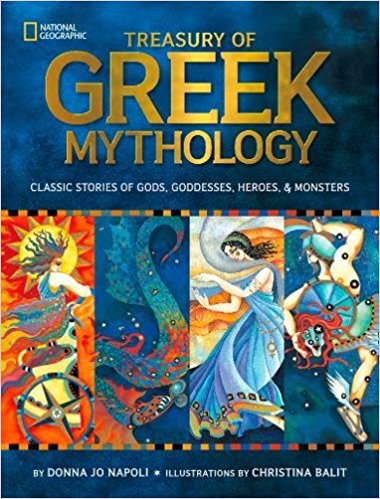 Treasury of Greek Mythology by Donna Jo Napoli
Classic Greek Stories

This treasury from National Geographic brings the stories to life by helping young readers to connect the tales to real events, people and places. Featuring stunning artwork, a family tree and a 'cast of characters' profile page to help make relationships between the characters clear.
Age guide 8–12 years.

The Usborne Book of Greek Myths
A bumper collection of lively concise stories

Presented in a luxury cloth-bound cover, this sumptuous book features lively retellings of 32 popular stories such as Jason and the Golden Fleece, Pandora's Box and the Minotaur. The stories are just 3– 4 pages long, concise enough for young readers or as bedtime stories, but detailed enough to appeal to older children and adults. Illustrated maps of Ancient Greece and a glossary of tricky words are nice touches.
Age guide 5–10 years.

COMPETITION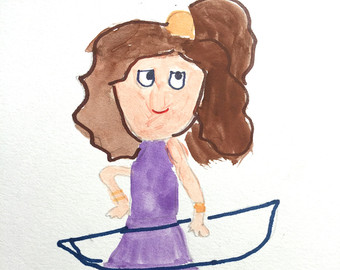 To celebrate next term's production for 7–12s, The Hercules Beat, we've got a copy of Usborne Illustrated Stories from the Greek Myths to give away.

To enter, ask your child to draw or paint a picture of a Greek God or Goddess and post it on Facebook

Alternatively send it to: Perform, 4 Blenheim Court, 62 Brewery Road, London N7 9NY or email it to [email protected]. Closing date: 31st December 2017. The pictures will be judged and one winner will be selected and notified by 5th January 2018.