Peter Pan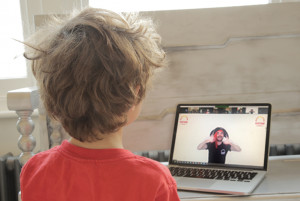 Online drama, dance and singing classes based on Peter Pan
This term, Perform at Home 4-7s will be exploring the story of Peter Pan.
'Let's have fun' said Peter Pan and that's exactly what your child will do as they fly to Neverland for an unforgettable adventure. With Peter, the Lost Boys and Tinkerbell in tow, every child will go on the trip of a lifetime with our amazing Producers.
With a sprinkle of fairy dust, your child will learn original songs, play fun Perform games and re-enact scenes based on J. M. Barrie's classic story. Our enthusiastic Producers will work their magic to ensure your child enjoys every minute. They'll be with them every step of the way to inspire and encourage them to project their voices, learn energetic dance routines, sing catchy songs, and develop the Perform 4 Cs - all from the comfort of their own home. Click here to see some videos of some of the songs and activities.
Class days, times and costs
Click here for the list of days and times. You can sign up by purchasing classes in blocks of 6 weeks. Classes can be cancelled at any time and the resulting credit used for any future Perform products or services.
Perform At Home classes cost £8 per class for blocks of 6 or less, £7.20 each for 12 and £6.80 for blocks of 18 or more.
Please note that availability is limited but we will be opening new classes as demand dictates so, if there is no space in your chosen class, please do go on the waiting list and we will contact you when a place becomes available.
Access via Zoom
Perform At Home classes are hosted on Zoom - the world's leading video conferencing platform. For more information on our reasons for selecting Zoom and reassurance as to security and privacy, please click here.