I read an article in the Evening Standard recently where writer David Wood, who recently adapted Judith Kerr's 'The Tiger Who Came To Tea for the stage, talked about the importance of drama for children. He said that children who take part in workshops are 'very unlikely to be going out with knives' because they would learn teamwork and tolerance. Click here to read it.
I have to say how refreshing it was to read this article as it's clear that drama certainly isn't considered important in the current regime at the DoE. In fact, did you know that children's arts receive only 1% of funding from the government even though 15% of the population are under 13? Read more »
It's the end of the  summer holidays and  we are now extremely busy putting the final touches to our curriculum for Autumn Term 2014.
When I set up Perform nearly 15 years ago, I wanted to create a drama school which was about the children having the best fun of the week (because they have to love it) but at the same time giving them skills that would help them through life. For example, if you teach a child to that projecting in a loud voice is important at the age of 5, they will remember and retain this for life and will stand them in good stead for everything they do. Read more »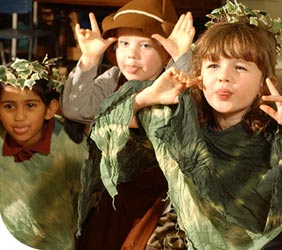 Our Summer Experience holiday courses started last week and, by all accounts, the first week went really well. I've had lots of great feedback from parents about the shows on the last day.
Even though it is really the learning process and enjoyment that's most important to us, the performances don't put themselves together. They take a lot of planning and hard work by our dedicated teachers and, of course, a huge amount of energy, effort and team work by the children.
Many people believe that working as a team does not come naturally to children. They argue that kids are essentially self-interested and focused on their own desires rather than the needs of the wider group. Read more »
I read a tweet at the weekend by an antenatal blogger,  bemoaning the fact that the number of C-section operations are rising in the UK.
When I did my prenatal classes, I remember there was a very short section at the end about what would happen if you had to have an emergency C-section.  I also remember mentally switching off and smugly thinking "Well that's not going to happen to me". What an idiot I was!
Two weeks later and 54 hours into my hideous labour, my unborn son is in distress and I'm being rushed to theatre for an emergency C-section. He's born safe and well and I shall be thankful forever for the procedure that probably saved both our lives. Read more »
We are incredibly fortunate to live in a time when there are so many extra-curricular activities for our children to try and enjoy. When I was growing up in South Wales, my choices were limited to dance, sport or music lessons. But nowadays children can try yoga, zumba, kick boxing, pilates – you name it, your child can try it! And that is wonderful.
But what worries me slightly is that because there is SO much choice out there, parents feel that their children have to try everything. And the result is that children chop and change all the time and don't commit to one activity wholeheartedly.  Read more »
I recently read this in-depth article in The Guardian about the reasons teachers are leaving the profession. A number of teachers are interviewed about how targets and inspections are affecting them – and more importantly, school children.
The article starts with a popular drama teacher of 22 years articulating why she took the hard decision to leave.  And while the whole article covers a lot of ground, I want to focus for a moment on the comments this teacher makes, as it resonates so much with me and what I'm trying to achieve with Perform. Read more »
I have just read an article in The Telegraph that features TV presenter and Property Developer Sarah Beeny. I found it so patronising that I had to share it with you all. Even given the  propensity of the media to embellish and make a good story out of anything, I thought the tone of the article was a little 'smug middle-class' and not in tune with the hard financial times that many families face in the UK today.
Let me start by quoting just one paragraph: "It's absolute nonsense to say you cannot afford to cook properly. Chicken nuggets are expensive, actually, and it's not about time either. That's nonsense. There's a million recipes. A baked potato takes one minute – you get potato, put it in oven, done. That's not a complicated, time-consuming thing to do. Getting chips out of the freezer and putting them in a deep fat fryer is more effort than a jacket potato. Saying your kid won't eat a jacket potato is nonsense because no child will starve themselves to death."
I found this blog post last night written by film director Ben Gregor (yes – I know it was written last year, but better late than never!). The full article is well worth reading, but let me share the first paragraph with you immediately: "So your kid likes acting and wants to be famous? You want them to be the next Harry Potter? Well, as a film director I have to say that the first thing you need to do is…..STOP"!
Ben goes on to say that children's enthusiasm is a precious commodity and they should hang on to that and enjoy life for as long as possible. Which is why he would never want his own children  to have an agent or act professionally while they are young.  Reading his article, I found myself agreeing with him wholeheartedly and it reminded me of why I set up Perform.
When I was 21, I got my first acting job  in Cameron Mackintosh's production of "Oliver" at The Palladium. Because I loved working with children, I also became involved in auditioning and rehearsing the kids in the show. And I was shocked to hear children aged 8 discuss their careers and how much money they were making. It seemed so strange and sad listening to these children talk like adults. Sure – they were enthusiastic on-stage, but maybe not for the right reasons?
At the same time I had adult cast members bemoan the fact that they'd gone straight into performing as a child and now weren't qualified or experienced to do anything else. They felt that they'd been robbed of opportunities and their options had been closed off before they were even 16.
So that's why I started Perform. Having been an actor and worked for other drama organisations I wanted to create a drama school that focused on the fun to be had when singing, dancing and acting and the skills that it gives us – regardless of what career we go on to have. And to this day, Perform is still unique in this.
Go to the website of any franchised drama school out there like Stagecoach, Razzamatazz, Pauline Quirke etc, and the front page will probably be celebrating a child landing a role in "Matilda" or "Les Mis" or a tv series or film. And that's fine. That's what they do. They congratulate the children who get the jobs, because it's such a hard and very competitive world.  But what about the 100s of their students who don't? Who get rejected and don't feel good enough?
I remember my parents telling me I didn't get the part of "Annie" when I was 10 in a local repertory  production – and I still remember how sad and rubbish I felt! Now I know that's life and we all have to deal with that sort of thing, but at such an early and impressionable age? Isn't it better for children to be children and enjoy singing, dancing and acting for its own sake? And if they're still enjoying it and are good when they are older and a little more mature, then isn't that the best time to encourage them to take it more seriously?
Being a  performer is a magical profession and I would hate the world to have been deprived of child stars such as the recently deceased Shirley Temple. But it's tough and I do think that you need to be older to deal with it. And in the meantime, there's always Perform!  What do you think?
My last post about why drama is beneficial prompted some parents to comment on the positive impact attending Perform classes has had on their children. While it's great to receive that feedback, it made me think more about how that positive impact affects us throughout our lives.  And specifically how Michael Gove's plans to "cleanse the curriculum" and offer less traditionally academic subjects to children will potentially harm UK plc.
So I chatted to a few successful business people I know who have performing backgrounds and asked them if they thought this had helped them in their professional lives in any way.
Jim Lawless, author of Taming Tigers and CEO of the Velocity Corporation started off his working life as a City solicitor. But he felt that his communications skills were so inadequate that he took a one-year full-time drama course to improve his skills in this area. The result has been an international speaking and writing career and a successful business that he simply could not have built without understanding the finer points of communication – one to one, with a small group and with audiences of up to 3,000.
To illustrate how subjects like maths are not always as important as the ability to communicate for success in business, Jim related to me the story of meeting a very wealthy man who explained that buying at 5 and selling at 10 gave him a 5% margin. Not quite GCSE maths, but this great communicator had nevertheless built up quite a network of satisfied and regular customers!
West End and Broadway leading lady Charley King, well known for playing roles such as Velma Kelly in Chicago and Ulla in The Producers, set up www.bluebellevents.com - an award winning wedding and event planning company in Los Angeles . For her, it is the discipline that she learnt from being a dancer that gave her the focus to build and grow her business to the successful enterprise it is today.
Hannah Rouch, a drama-trained journalist who set up the hugely successful www.stylenest.co.uk a fashion and destination website for the modern women, feels that her drama background gave her the confidence to be able to speak and make business presentations.  Even dealing with CEOs of large companies didn't faze her as she knows how to control her nerves and make a confident impression to hold her own in these meetings.
Supporting these conversations with Jim, Charley and Hannah is this article I read recently, written by a successful PR and Marketing businessman who has never taken a business or marketing course in his life.  Instead, he attributes his success in business to the skills he learnt taking a theatre degree.
As Albert Einstein said, "Everybody is a genius. But if you judge a fish by its ability to climb a tree, it will live its whole life believing that it is stupid." If in our schools we only hone in on academic intelligence, we risk demolishing esteem and confidence in less academic children. And these children could be the entrepreneurs of the future. So it's not just the arts that suffer, it's all jobs. If you take away the ability for children to learn in different ways, then you take away their potential to achieve. And that's something that education shouldn't be doing.
I'd love to hear your thoughts on this. And if you're a Perform Alumni I'd really like to know if  your experiences at Perform has helped you in your adult life in any way.
As Principal of a leading drama school, I'm asked this question a lot. And I could write a book on the many reasons why drama is so excellent –  not just good – for children. But for this blog post, I'll focus on just one benefit; and that's the improvement drama can make to a child's oral communication.
At school, there's an emphasis on children learning to read and write and rightly so, as these are fundamental skills. But where's the interest in how well a child is communicating and how clearly and confidently they are speaking?  If you consider how much we communicate orally, interacting with friends, family, colleagues and strangers, then it seems odd that more emphasis isn't put on this in schools.